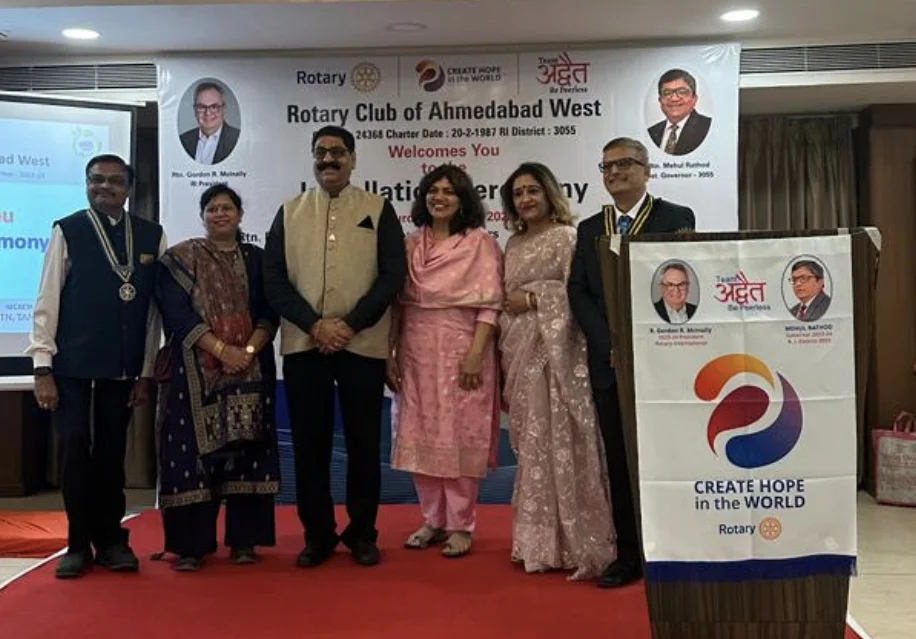 Reading Time:
2
minutes
Ahmedabad, 29th July 2023:
The Rotary Club of Ahmedabad West witnessed a momentous occasion as it held its Installation Ceremony to mark the official transition of leadership from Outgoing President Rtn Divyesh Patel to the newly elected President Rtn Rajendra Nagar and Secretary Rtn Pranay Pandya. The event, held with great enthusiasm, was graced by esteemed dignitaries and members of the Rotary community.
The ceremony commenced with a heartfelt Invocation Prayer, paying homage to Lord Ganesha, led by Rtn Kunal Agarwal. Chief Guest Dr Bhushan Punani and the Installation Officer PDG AKS Rtn Maullin Patel added to the grace of the occasion, inspiring attendees with their presence.
The Installation Officer, PDG AKS Rtn Maullin Patel, took the stage to introduce the newly elected President Rtn Rajendra Nagar and Secretary Rtn Rajesh Chokhra, highlighting their dedication and commitment to the Rotary Club's mission.
Amidst the jubilant atmosphere, new members were inducted into the Rotary Club by Assistant Governor Rtn Hemendra Shah, emphasizing the growth and expansion of the club's service initiatives.
The highlight of the evening was the felicitation of Mrs Dipika Shah with the prestigious Paul Harris Fellow (PHF) certificate and pin. Mrs Shah, the wife of Late Rtn Bharatbhai Shah, was honored for her exceptional contributions to the community, embodying the true spirit of Rotary's values.
Outgoing President Rtn Divyesh Patel took the opportunity to reflect on the accomplishments of the past year, highlighting the club's remarkable achievements in various social welfare projects.
President Rtn Rajendra Nagar, in his maiden speech, outlined his vision and plans for the year ahead, emphasizing his commitment to continuing the club's legacy of service to society.
The Installation Ceremony also witnessed the introduction of esteemed Past District Governors and their spouses, who graced the event with their presence, adding to the grandeur of the occasion.
The event concluded with a vote of thanks and club announcements, followed by the rendition of the National Anthem, symbolizing unity and patriotism.
The Installation Ceremony of Rotary Club Ahmedabad West served as a testament to the organization's unwavering dedication to serving the community and its seamless transition of leadership. With the newly elected President and Secretary at the helm, the club is poised to embark on a new chapter of impactful social initiatives in the region.